Spa Pacer Spring Clinic Volunteer Shirts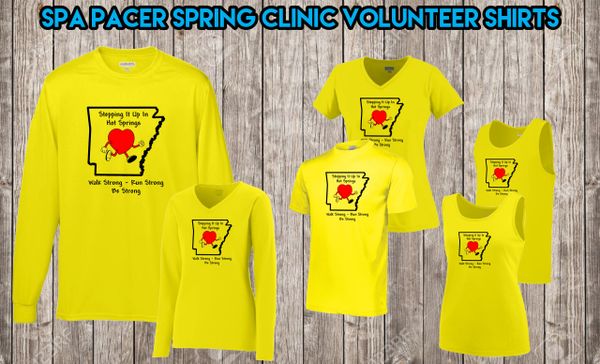 Spa Pacer Spring Clinic Volunteer Shirts
***Items will ship at the end of the ordering period to a representative of Spa Pacers for distribution. ***

ALL SALES FINAL.  NO RETURNS OR EXCHANGES.  Home Delivery is not available.
Orders will be processed after the ordering deadline and typically take 10-15 business days to complete.
Spa Pacer Spring Clinic apparel available to clinic volunteers.  

Available in short sleeve, long sleeve, and tank in both adult and ladies sizing.  If size is not listed, stock is not available in that size.

Volunteers should receive a coupon code for 1 free item.  Enter this code at checkout to redeem.

Additional pieces may be purchased at the shown prices and will be delivered to a local representative of the Spa Pacers for delivery.

Sizing information for each: